Sell Your House Fast In Tucson!
If you are wondering "How To Sell My House Fast in Tucson" then you are in luck!  The Tucson real estate market is in good swing at the moment, and the ability to sell your home conventionally is easy!  However, if you have a home that is for whatever reason unfinanceable, then you are also in luck!  Because that is just the type of property that I like to buy!
When I look at homes in the Tucson real estate market, I think a good indicator of the market is the average days on market.  Below, you will find various charts that describe the rolling 6 month median of days on the market.  It is broken down by three categories, Single Family residences, Townhomes, and Condominiums.
Single Family Residences

Townhouses

Condominiums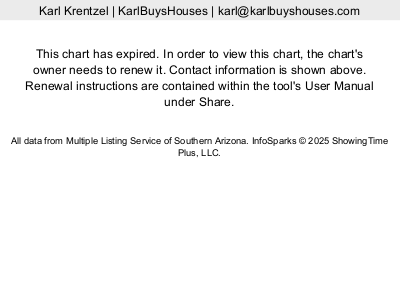 Each one of these graphs are updated daily from the Tucson Multiple Listing Service and will give you a good idea of what you could reasonably expect your average days on market to be.  This of course involves listing your home for sale, paying a commission, providing repairs, and potentially paying buyer closing costs.  If you are trying to find out How to sell my house fast in Tucson…  this might be fast, but there is cost, and aggravation involved!
How To Sell My House Fast In Tucson
What I always recommend to people is to examine their need to sell fast.  If you have a house that you need to sell fast in Tucson, it might be because of it's condition.  If it is unable to be financed typically, and needs to be sold in it's "as-is, where is" state, then calling someone like me at KarlBuysHouses just makes sense.  I buy houses fast for cash here in Tucson.  As an Investing Realtor who is also a Broker, I have the ability to help you more than a traditional investor!
If you are trying to sell your house fast in Tucson, there are essentially two questions you need to answer..
 How fast do I REALLY need to sell my house?
Which is more important to me.. Convenience or Profit?
Because at the end of the day, whether you choose to list your home on the Multiple Listing Service,  or to sell it to an Investor, it ultimately ends up as a contest between time versus money.
How To Sell A House Fast In Poor Condition
Regardless of the condition, or the situation your home is in, if it's not in the current condition to sell on the Tucson MLS, then you can still sell your home fast in Tucson! As an Investing Realtor who buys property, I pay all closing costs, take your property as is, and close quickly if needed!
If you are trying to sell your house fast in Tucson but it is in poor condition, then you aren't out of luck!  There are still homebuyers like myself at KarlBuysHouses that will buy your Tucson home in it's "As-Is, Where-Is" Condition.  I can make you a fast, fair offer on an unwanted home in Tucson simply by clicking here or calling/texting me directly at (520) 403-6227