Terra Del Sol Tucson Home Sale Prices! KarlBuysHouses
Terra Del Sol!
Terra Del Sol is one of my favorite subdivisions in Tucson!  It was developed between 1955 and 1957 by Marvin Volk.  At that time, Mr. Volk developed the 640 acres between Golf Links Road to the south, 22nd Street to the north, Kolb to the east, and Wilmot to the west.
Today, Terra Del Sol is home to thousands of families, Terra Del Sol Park, Terra Del Sol pool, shopping centers, restaurants and more.
If you are familiar with the area, then you will immediately notice some of the unusual names in the subdivision.  Names like Calle Neptuno, Calle Dened, and Calle Cappela  tend to stand out to the non local.  They are a curious collection of names as Mr. Volk employed  Bill Armstrong (a surveyor and architect) and Jack Lamb to survey the land and come up with the names.
The strange names appear to be intentional misspellings or combinations of Latin and Spanish (1). Regardless of how they were designed, they are colorful, and represent a unique nature of Terra Del Sol!
Related: What Are The Best Neighborhoods In Tucson?
Terra Del Sol Home Prices
As a Broker/Realtor and Investor in the Tucson area for over 20 years, I have seen the prices in this area increase dramatically over the years.  Many of the people that I have helped in this area have bought their homes years ago, and are now looking to sell for various reasons.
The chart below (updated daily) shows the varying median sale prices of homes in the Terra Del Sol subdivision in Tucson Arizona.  As you can see, homes that are 3 bedroom, 2 bath homes that have less than 1500 sf are currently selling for $156,250, while the same house (3 bedrooms) but between 1500-2000 sf sell for almost $30,000 more.
The variances in the subdivision also depend on upgrades.  When a home needs upgrades, it obviously will sell for less than a home that has been improved to selling standards.  Over improvement in this area is a danger, as it is unlikely that you will receive the amount of money you put in for over improvements.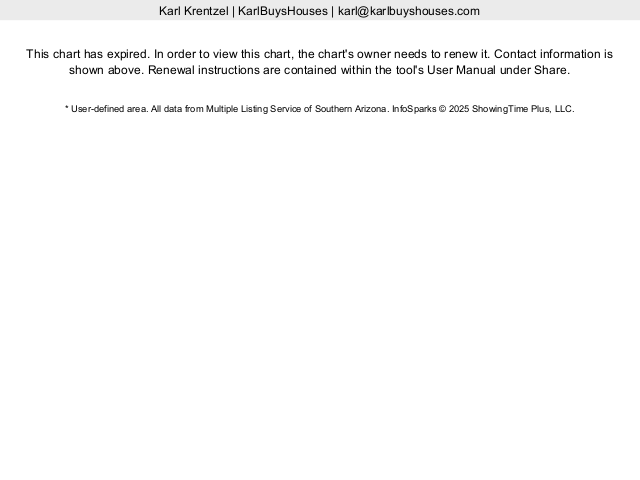 Selling a Terra Del Sol Home?
Do you have an unwanted home in Terra Del Sol in Tucson AZ? If you have an unwanted home for any reason, inheritence, divorce, a rental property that isn't producing, any reason!  I will be happy to make a fast, fair offer on an unwanted home.  I've been a Broker, who is a licensed Realtor in the State of Arizona for over 20 years who also invests.  I close quickly, take your property in as is condition, and pay all the closing costs!
Call or text me at 520-403-6227 for quick answers for unwanted homes!
Need To Sell Your House Fast?
We buy houses in ANY CONDITION! We pay CASH and you will not pay any commissions, agents, or fees. Put your address and email below and answer 5 easy questions on the next page to get a cash offer in 24 hours!